When we first moved in to our home (2+ years ago), we scurried to fill it with the essentials.
A sofa...


And we even bought barstools for our LOOONNNGGG bar area...
But at the time they seemed altogether adequate: they were cheap, had simple lines and, frankly, I wasn't aware that such marvelous alternatives as this...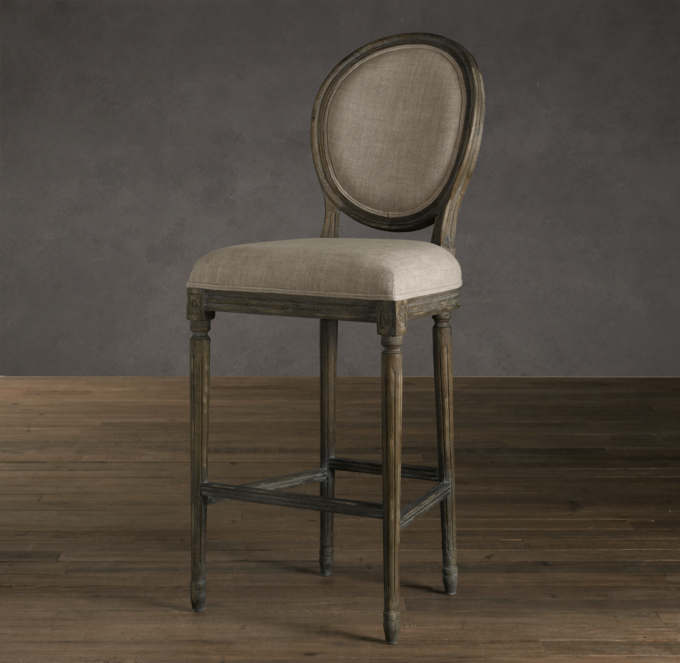 and this...
Existed :o(
The Swedish store, IKEA was our go-to furniture source at the time, mostly for lack of resources and ideas both. So, we bought these...let's call them... "interesting" IKEA barstools, without a slipcover (because I was totally going to make them myself), for about $40 a piece (which was about $40 too much, if you ask me)...
Oh well...
They sat in our garage for
years
a long time as I pondered a potential makeover, a total transformation really, and ultimately I decided to take these Swedish twins on a permanent holiday to France (well not REALLY TO France, of course--but you know what I mean) ...
And for a grand total of about $10 (I had all materials, except for fabric)... I can afford to keep these two around while I save up for my dream barstools--
And oh yes, I do DREAM of barstools :oP
you
too can make the most of a questionable IKEA purchase ;oP
First I sanded the
blah
birch frame with 100 grit sandpaper (which also serves as a nice little bicep and tricep workout)...
Then I mixed my custom French Grey paint blend...
A few drops of clearance grey tone paint + a cup full of white semi-gloss paint...
Stir a little...
And done!
I went straight to painting without priming--you know, because I am
impatient
efficient that way :oP...
Remember my favorite furniture painting technique: DRY BRUSH PAINTING: it's effortless, forgiving and ultimately quite rewarding...
I usually paint two very light coats using this technique before I get to the fun part--ANTIQUE GLAZING...
Finally, wipe off according to your desired result (with a dry or damp paper towel)...
I prefer a subtle glaze, but the possibilities are ENDLESS...
Next, I took to sewing the slipcovers~~DUN DUN DUN~~
Never fear! Check out my ultra scientific approach...
Because the shape of these barstools is so linear, I simply placed manageable pieces of fabric over the back, front and seat portions of the stools and cut them to size and shape.
I know--pretty risky, but I just made sure to leave myself enough inches for error :oP
This is what the basic part of the slipcover looks like once you've sewn it together...
Then came the more intricate part of the process which was hemming, pleating and attaching the frilly skirt to the slipcover...
I cut a 12 inch by (approximately) 5 yard strip of fabric and ironed a 1/2 inch, double hem throughout...
The ironing really saves the day, as it makes sewing the hem almost effortless...
Then I was on to simple pleating! You really can get creative with this particular step...
You can diligently measure so that all pleats are precise and exactly the same (which is what I did) or you can opt for a more casual look by creating pleats wherever and however you would like them (which is what I will totally do in the future)...
Whichever approach you decide to use, ironing and pinning your pleats will keep you sane once it is time to attach the pleated skirt to the rest of the slipcover...
I, once again, placed the slipcover inside out on the stool and carefully attached the pleated skirt with pins--AGAIN a true feat of engineering I tell ya'...
The more precise the pinning is the less confusion you might have once
you have bunches of fabric to sew at the sewing machine...
Then, you just sew away, flip your slipcovers right side out, iron any noticeable wrinkles and introduce your french inspired slipcovers to your Swedish born furniture...
I have a feeling that these two might just grow on me, after all!
XOXO,